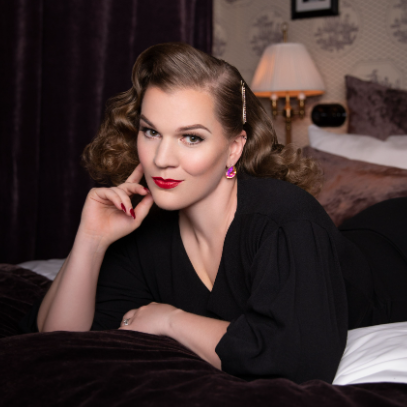 Tigz Rice
Empowerment Photographer, Specialising In Boudoir & Personal Branding
Tigz Rice is an empowerment photographer, who helps fearless humans re-connect with their bodies and feel empowered, confident and unapologetically present in both their personal and professional adventures. Combining luxury editorial photography with her own signature style of retouching, Tigz has been helping her clients level up their digital visibility since 2009, providing a portfolio of beautiful images that perfectly portray their unique personality, style and values.

Working with clients from all backgrounds, Tigz's photography has supported her clients to reconnect and/or reclaim their bodies after life-changing events including cancer treatment, surgical procedures, trauma and abuse. She also actively works with her clients to promote self-worth and a positive body image.

Based in Hertfordshire, UK, Tigz has toured Europe extensively over the years, as well as travelling the world virtually via her Virtual Shoot offering - attracting clients from Australia, Canada, Guadeloupe, New Zealand and more than 20 of the US States. Gaining a reputation as one of the world's most sought after empowerment photographers, in 2019 she published her award-winning book STRIP/TEASE with American publishing house Working Class Publishing, documenting a decade of work within the burlesque community.
Tigz is also a founding member and Director of Photography for The Underpinnings Museum, a radical innovation in showcasing and documenting exquisite objects, dedicated to the evolution of underwear through the ages. Offering free access to all, the museum creates an invaluable community resource with high-quality photography capturing garments dating as far back as the 1700s in exquisite detail. Each object is accompanied by extensive technical and historical contextual information, providing lingerie lovers, fashion students, historians and home sewers an unparalleled depth of insight and fresh perspectives on the world of undergarments through the ages and across the globe.

In 2021, Tigz was named as one of Digital Women's Top 40 Digital Women To Watch, making the shortlist for Digital Woman of the Year. In 2022, she was shortlisted for Digital Creator of the Year, and in 2023, she was named as one of the UK's most inspirational and dynamic female entrepreneurs by the f:Entrepreneur '#ialso100' campaign, in partnership with Small Business Britain.

When she's not behind the camera, Tigz enjoys spending time outdoors, travelling the world and learning as many languages as possible (currently Japanese).