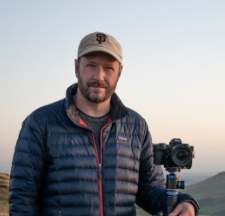 Nigel Danson
Nigel started photography when he was 11 years old and fell in love with it. What really got him interested was processing B&W films and many hours were spent in the attic of his parent's house in the semi-dark!
Nigel's working life didn't begin in photography but after a series car accident in 2016, he decided to swap his office seat for full time hiking boots and focused on growing his [now thriving] YouTube channel.
He loves that he now gets a chance to travel the world, meet like minded people on workshops and talk about his passion, and feels fortunate to now be able to pursue his dream and not have to sit down too much.
His passion is taking photos of landscapes and he has been fortunate enough to travel to many fantastic places – with his all-time favourite being Iceland. He finds it so rewarding when you get that picture that captures the weather, or the ever-changing state of the environment where you really do capture a 'moment in time'.
Nigel has just announced the publication of the 2nd edition of his landscape photography book, 'Vistas'. This has been a labour of love for the last year with a view of creating something a little different; not only will it look great on any coffee table but it also contains some really useful information about how he took the images. Visit
https://www.nigeldanson.com/products/vistas
for more information.