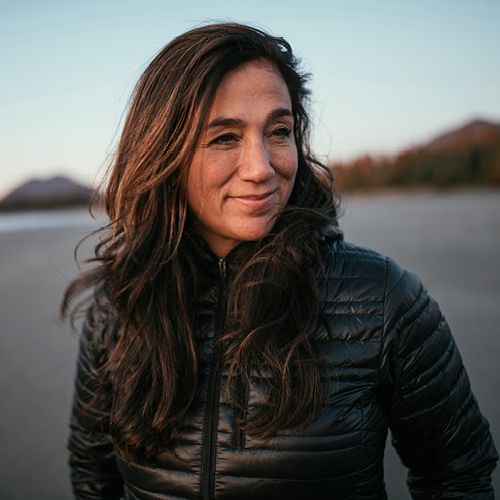 Cristina Mittermeier
Session: Enoughness
Sunday, 18 September - 13:15-14:30
With passion, conviction, and a zest for life, illustrated by award-winning images and film, Cristina will share the hard-won wisdom she's gleaned from documenting the far reaches of our planet and its people for decades.
Born in Mexico City, Cristina has been a passionate advocate for our natural world since she graduated from the University of Mexico with a degree in Biochemical Engineering and Marine Sciences. After several years of field work, Cristina noticed that what moved people the most were the stories about what she and her fellow researchers were studying—not the actual studies. She realized that images and stories help us comprehend abstract concepts better than numbers and graphs and that understanding creates empathy, and empathy drives action. Determined to harness this magic, Cristina enrolled in the Fine Art Photography program at the Corcoran College for the Arts in Washington, D.C. and began to tell these stories herself. Then, in 2005, she rallied the troops, tapping fellow natural history photographers and banding them together to form a collective—called the International League of Conservation Photographers (ILCP)—to magnify their impact.
In 2014, Cristina would further hone her purpose and—together with her mission and life partner, Paul Nicklen—co-found SeaLegacy, a revolutionary non-profit organization dedicated to the protection of the ocean. SeaLegacy harnesses the power of storytelling to raise awareness of critical marine issues and to drive advocacy, but the revolutionary twist is how it bypasses the traditional story pipeline by side-stepping the middleman: media channels. By building its own pipeline of storytellers, stitching together their unique social media audiences, and enabling straightforward funding pathways for committed corporate, institutional and individual partners, SeaLegacy is able to document the natural world nearly 24/7...not just when the phone rings with an assignment. For Cristina, it's not just about the Ocean. In her words, "My work is about building a greater awareness of the responsibility of what it means to be human...understanding that the history of every living thing that has ever existed on this planet also lives within us. It is about the ethical imperative that we are linked to all other species on this planet and that we have a duty to act as the keepers of our fellow life forms."
In 2020, on the 50th anniversary of Earth Day, Cristina announced the most ambitious project of her career: "Only One," a new digital technology product that amplifies stories, campaigns, and solutions that sit at the intersection of ocean health and social justice and uses the power of media and technology to inspire individuals to take action to rebuild ocean life. A Sony Artisan of Imagery, Cristina was named one of National Geographic's Adventurers of the Year in 2018. She is also the recipient of many awards, including the Mission Award from the North American Nature Photography Association and the Smithsonian Conservation Photographer of the Year Award. In recognition of her three decades of courageous journalism and making the pictures that tell the story of our planet, Mittermeier was recently presented with the Seattle Aquarium Sylvia Earle Medal and is the recipient of Travel + Leisure's Global Vision Award for 2021.