Silverpan Film Lab
Stand: G600
Analogue, Film & Darkroom Equipment
Photo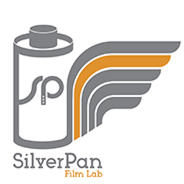 SilverPan Film Lab is a new small independent film laboratory run by and for analogue photography enthusiasts.
Passionate about photography we run on a small scale to ensure each and every film receives individual attention to detail.
For most processes we use small-scale automated and customizable processing machinery, and a choice of scanning options, including the renowned Noritsu HS-1800 and Hasselblad Flextight X5 scanner for pin-sharp high-resolution scans that retain the full character and nuance of analogue film.
We can process all types of film!
C41, E6, B&W, ECN-2 (remjet backed cinema film) & B&W reversal
in 35mm/120/126/127 &110 formats! Your film, your way.