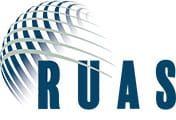 RUAS are one of the UK's leading Drone Training and Service Providers.
RUAS are a CAA accredited RAE offering fully approved drone training courses including;
A2 Certificate of Competency (A2 CofC)
General VLOS Certificate (GVC)
RUAS also offer an Aerial Data Processing course giving you the skills required to process the data captured effectively.
RUAS currently hold an extensive Operational Authorisation allowing the flight of UAS well beyond the standard PDRA-01.
This includes Beyond Visual Line of Sight Operations out to a maximum distance of 3km, Extended Visual Line of Sight Operations with the use of visual observers out to a distance of 1.5km and operations much closer to uninvolved persons.
RUAS are also the first company in the UK to be granted an Operational Authorisation for Aerial Precision Spray Operations (with herbicide).
RUAS offer an Aerial Data Processing Course for £795, this is a 3-day course taught at RUAS' training facility in Newport, South Wales.

The GVC qualification allows flight of an unmanned aircraft with a MTOM of <25kg in the Specific Category under an Operational Authorisation. RUAS offer the GVC course for £500.