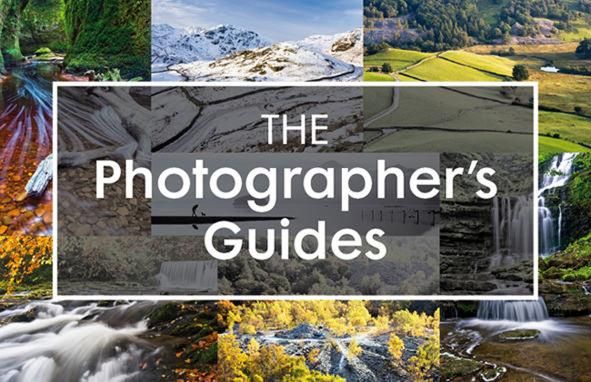 Discover the UK's finest landscape photography locations with our series of location guidebooks
When you visit a new area for photography it's hard to know where to start. You probably know about the 'classic' locations already, but what's the easiest way to reach them? And what else does the area have to offer? Time is precious and you'd be disappointed if you got home only to find out there was a gem of a location just around the corner from where you were, or you'd driven straight past a fantastic viewpoint not knowing it was there. Many photographers have discovered exciting new locations using 'The Photographer's Guides' location guide books.
Titles in the series:
The Photographer's Guide to The Lake District

The Photographer's Guide to The Yorkshire Dales

The Photographer's Guide to The Peak District

The Photographer's Guide to Scotland (Skye, Glencoe & The Trossachs)

The Photographer's Guide to Northumberland

The Photographer's Guide to Snowdonia & North Wales

The Photographer's Guide to Cornwall

The Photographer's Guide to The North Yorkshire Coast

The Photographer's Guide to Iceland Volume 1: The South & West

The Photographer's Guide to The Norfolk Coast & Broads
Each book saves you hours of internet research and contains everything you need to plan your perfect photography trip – we've done the legwork of finding the best locations on offer, so you don't have to. And with 50 top locations in each book covering a variety of subjects, you'll be spoilt for choice.
Every location has clear written directions, detailed annotated maps, OS grid references and satnav information (GPS coordinates are available online too), so you can easily find even the most well-hidden spot. Along with tips on where the best viewpoints are and the best time of day and year to visit, you'll find essential practical tips about things like whether you'll need your wellies, how difficult the walk is or what tide height to avoid at coastal locations. All you need is your camera!
Written for photographers by photographers
All the books are researched and written by Ellen Bowness, a passionate photographer and professional editor based in the heart of the beautiful Lake District. They're published by Long Valley Books Limited, which was founded by Ellen in 2013.
The range is highly acclaimed by amateurs and professional alike, with over 200 five star Amazon reviews.
Buy now to discover new and exciting photography locations
All titles will be available to buy from our stand at the show, or visit our website now to find out more https://longvalleybooks.com/